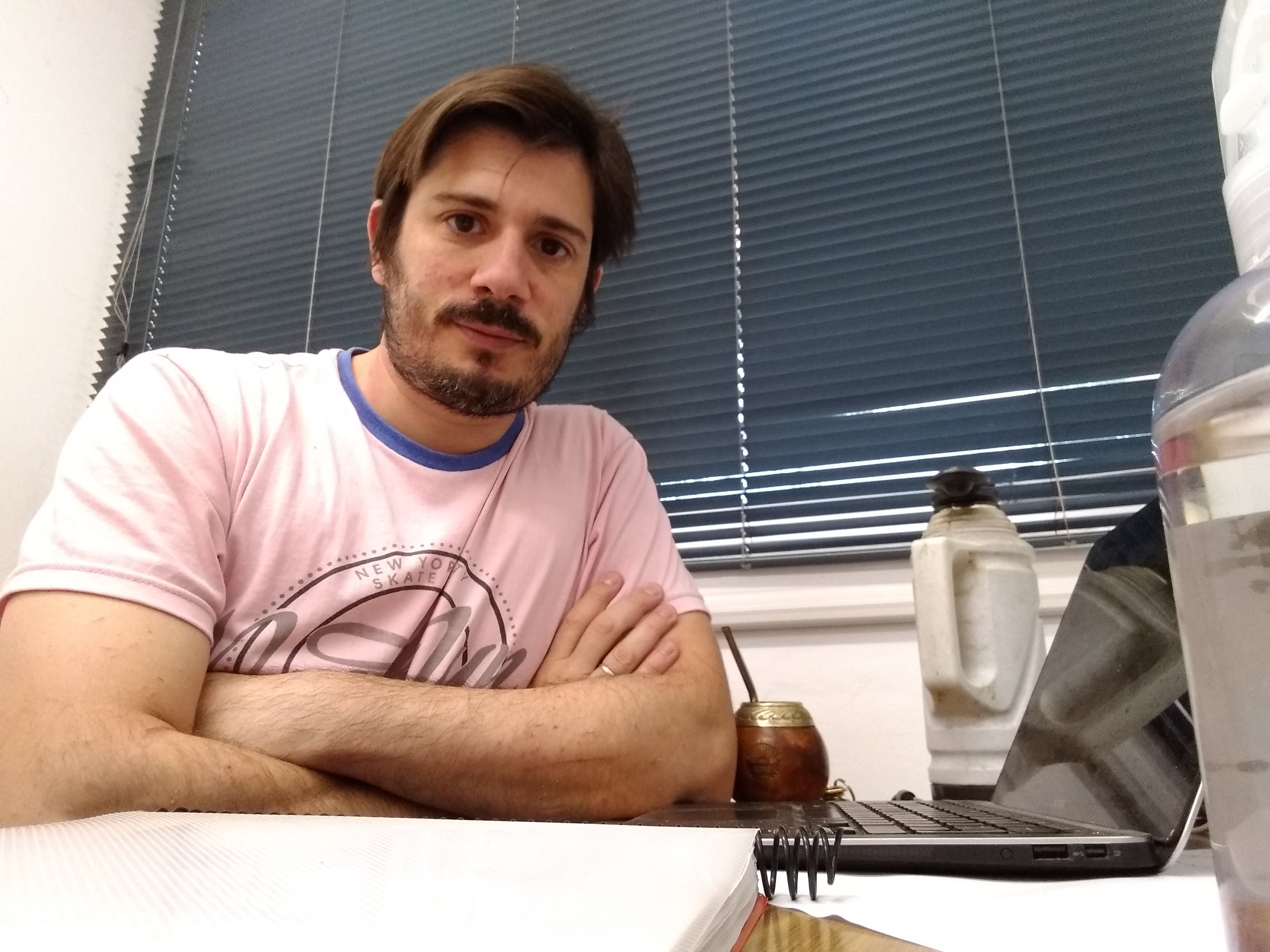 I am professor at the Department of Computing, National University of Rio Cuarto, Córdoba, Argentina. Also, I am a Researcher at the Argentinean National Research Council (CONICET). My main interests lie in logic applied to computer science, fault-tolerance, computational complexity, and programming in languages like Haskell, Python, etc.
I obtained my Licenciatura in Ciencias de la Computación at UNRC, and my PhD in Computer Science at McMaster University.
Currently, I am the chair of the Department of Computer Science at UNRC.
Contact Information:
Ruta Nac. 36, Km 601
Rio Cuarto, Córdoba, Arg.
Depto. Computación, Universidad Nacional de Rio Cuarto,
CP 5800      

More contact info is displayed at the bottom of this page.
Activities
Some academic activities in which I was involved:
Program Committes: FormaliSE 24, CONCUR 23, FM 23, CLEI 21, CLEI 20, CLEI 14, CLEI 13, ADMA 12, ADMA 11, LAFT 11
Organization: CLEI 22 (SLTC), Rio Summer School 23, Rio Summer School 18, JAIIO EST 2023.
External Reviewer:

Journals: AI, FAOC, IEEE Trans. Systems, JANL, JLAP, JLLI, LLP (Logic and Logical Philosophy), Logica Universallis, Studia Logica, JAL, Logical Methods in Computer Science, SCP.
Conferences: CONCUR, FM, FSTTCS, QUEST, SEFM, TACAS, WADT, ICTAC.
news
| | |
| --- | --- |
| Sep 24, 2023 | Im PC Member of FormaliSE 24 https://formalise2024.github.io/ |
| Jul 23, 2023 | Our paper "How Easy it is to Know How: An Upper Bound for the Satisfiability Problem" (Areces, Cassano, Castro, Fervari and Saravia) was accepted at the 18th Edition of the European Conference on Logics in Artificial Intelligence (JELIA). |
| Jan 25, 2023 | I am PC member of CONCUR 23 https://www.uantwerpen.be/en/conferences/confest-2023/concur/ |
| Jan 25, 2023 | Our paper "A Deontic Logic of Knowingly Complying" (Areces, Cassano, Castro, Saravia) was accepted in AAMAS 23. |
| Aug 18, 2022 | Our paper "Algebraic Tools for Default Modal Systems" (Cassano, Fervari, Areces, Castro) was accepted by the Journal of Logic and Computation. |